Welcome to Prairie Crop Charts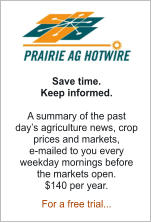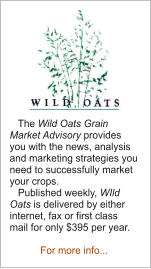 Copyright 2023 Canadagrain
Disclaimer:
Information is secured from sources believed to be reliable, but 100% accuracy cannot be guaranteed. For charting purposes, some price data for illiquid markets may be
interpolated.
Persons associated with Canadagrain.com deal commercially with businesses active in Prairie grain markets and may hold positions on their own accounts in commodities discussed
herein.
Prairie Crop Charts does not provide specific marketing advice or advice on trading opinions on futures and option contracts
.
Any charts, opinions, chats, messages, news, research,
analyses, prices, or other information contained on this website are provided as general market information for educational and entertainment purposes only and do not constitute
investment advice. Canadagrain.com will not accept liability for any loss or damage, including without limitation any loss of profit, which may arise directly or indirectly from use of or
reliance on such information.
Canadagrain.com, 905 – 167 Lombard Ave., Winnipeg, MB R3B 0V3, tel: (204) 942-1459 fax: (204) 942-7652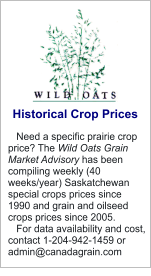 Charts - a pictorial history of markets - can be a powerful decision making tool. Patterns
repeat.
In any market, knowing what is likely to happen is a big edge. Most commodity spec funds,
for example, trade on charts. If charts work for billion dollar hedge funds, odds are they may
provide you a hand when you're marketing your 10,000 bushels of lentils. For a farmer, charts
can be a helpful marketing tool.
A Prairie Crop Charts subscription gives you access to over 300 charts that cover the grains,
oilseeds and special crops grown on the Prairies: canola, oats, wheat, barley, flax, soybeans,
red and green lentils, brown, yellow and oriental mustard, canary, green and yellow peas,
chickpeas, edible beans and more.
Updates occur by 8:00 am central time each weekday that Canadian markets are open.
Select crop and futures charts are updated each weekday to keep you up-to-date on the major
grain and oilseed markets. All charts are updated once a week on a rotating schedule (e.g,
wheat charts are updated on Mondays, canola and flax charts on Tuesdays, etc.)
Don't miss out on this unique and valuable resource. Subscribe today! A one year subscription costs
only $200. A monthly option at $20 (recurring charge) is also available. Complete and submit the
subscription order form
or call 1-800-567-5671 or 1-204-942-1459.
Average Crop Prices
For December 01, 2023
($CDN/bu Delivered Elevator)
SK
MB
AB
Canola
14.80
14.79
14.85
#1 CWRS
8.89
9.05
9.27
#2 CPSR
7.72
-
7.94
Durum
12.58
-
12.33
Feed Barley
5.63
5.83
6.31
Oats
-
5.26
4.97
Yellow Peas
10.66
10.66
10.21
This is a just a small sample of the
crop prices we survey.
Looking for current or historical crop
price data? We offer daily and weekly
update services and maintain
datasets covering 30 years of weekly
and 15 years of daily crop prices for
the grains, oilseeds and special crops
grown in Saskatchewan, Manitoba
and Alberta. For data availability and
cost, contact Canadagrain.com at
204-942-1459.
Charts include
:
CWRS (SK, MB, AB)
CPSR (SK, MB, AB)
Durum (SK, AB, ND, MT)
Feed (SK, MB, AB)
DNS (ND) & HRW (MT)
Provincial & International Comparisons
Seasonals


Updates Mondays
Last Updated: December 04, 2023
Updates Tuesdays
Last Updated: November 28, 2023
Updates Wednesdays
Last Updated: November 29, 2023
Updates Thursdays
Last Updated: November 30, 2023
Subscribers: Chart updates for December 04, 2023
We welcome your feedback:
Your feedback regarding the crops covered, charts that you
would like to see, presentation, etc. is greatly appreciated. Feel free to contact us at 1-800-
567-5671 or email admin@canadagrain.com.
Charts include
:
Western Canada (SK, MB, AB)
5, 10 and 15 Year Seasonals (SK, MB, AB)
Nexera (SK)
ICE Canola Futures
North Dakota & Minnesota Canola
Provincial & International Comparisons
Charts include
:
CWRS (SK) & Canola (SK)
DNS (ND) & Soybeans (ND)
ICE Futures Canola
CME Corn, Soybeans, Soyoil, Soymeal, Wheat, Oats
MGEX Wheat, KCBT Wheat
BURSA Palm Oil
India Barley, Maize
Brazil Soybeans, Corn
Charts include
:
Feed Western Canada (SK, MB, AB)
Feed - 5, 10 and 15 Year Seasonals (SK, MB, AB)
Feed (North Dakota & Montana)
Feed - Provincial & International Comparisons
Malt Western Canada (SK, AB)
Malt (North Dakota & Montana)
Malt - Provincial & International Comparisons
Charts include
:
Western Canada (SK, MB, AB)
5, 10 and 15 Year Seasonals (SK, MB, AB)
North Dakota
CME Oats Futures
Prairie & International Comparisons
Updates Wednesdays
Last Updated: November 29, 2023
Charts include
:
Canada (MB, AB, ON)
North Dakota
CME Corn Futures
Prairie & International Comparisons
Seasonals (Available Soon)
Updates Tuesdays
Last Updated: November 28, 2023
Charts include
:
Western Canada (SK, MB, AB)
North Dakota
Prairie & International Comparisons
Seasonals (Available Soon)
Updates Thursdays
Last Updated: November 30, 2023
Charts include
:
Canada (MB, ON)
North Dakota
CME Soybean Futures
Prairie & International Comparisons
Seasonals (Available Soon)
Updates Fridays
Last Updated: December 01, 2023
Charts include
:
Western Canada
North Dakota (Bird Seed)
Prairie & International Comparisons
Seasonals (Available Soon)
Charts include
:
North Dakota (Nusun)
Seasonals (Available Soon)
Updates Thursdays
Last Updated: November 30, 2023
Charts include
:
Yellow - Western Canada, North Dakota
Green - Western Canada, North Dakota, Washington
Maple - Western Canada
Feed - Western Canada (SK, AB)
Prairie Price Comparisons
Seasonals (Available Soon)
Charts include
:
Green (Small, Medium and Large) - Western Canada
Red - Western Canada
North Dakota (Medium Green)
Price Comparisons
Seasonals (Available Soon)
Charts include
:
Kabuli - Western Canada
Desi & B-90 - Western Canada
Price Comparison
Seasonals (Available Soon)
Charts include
:
Yellow - Western Canada
Brown - Western Canada
Oriental - Western Canada
Price Comparisons
Seasonals (Available Soon)
Charts include
:
Navy & Pinto - Prairies (MB, ND)
Black - Prairies (MB)
Dark & Light Red Kidney - Prairies (MB)
Great Northern & Small Red - Prairies (MB)
Pink & Cranberry - Prairies (MB)
Prairie Price Comparisons (MB, ND, MI, WA)
Seasonals (Available Soon)
Charts include
:
Western Canada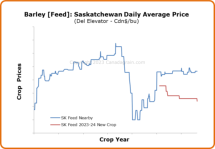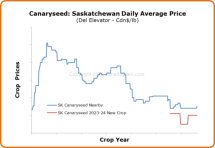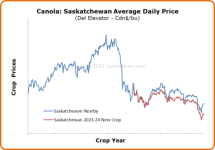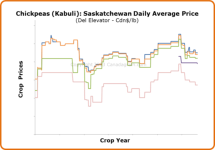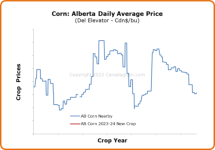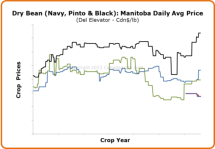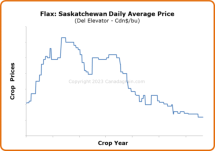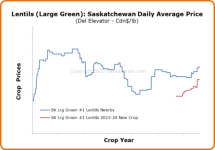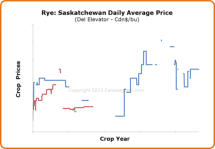 Updates Fridays
Last Updated: December 01, 2023
Updates Fridays
Last Updated: December 01, 2023
Updates Fridays
Last Updated: December 01, 2023
Updates Fridays
Last Updated: December 01, 2023
Updates Fridays
Last Updated: December 01, 2023
Updates Fridays
Last Updated: December 01, 2023
Updates each weekday morning
Last Updated: December 04, 2023